Sprite (Limited Edition)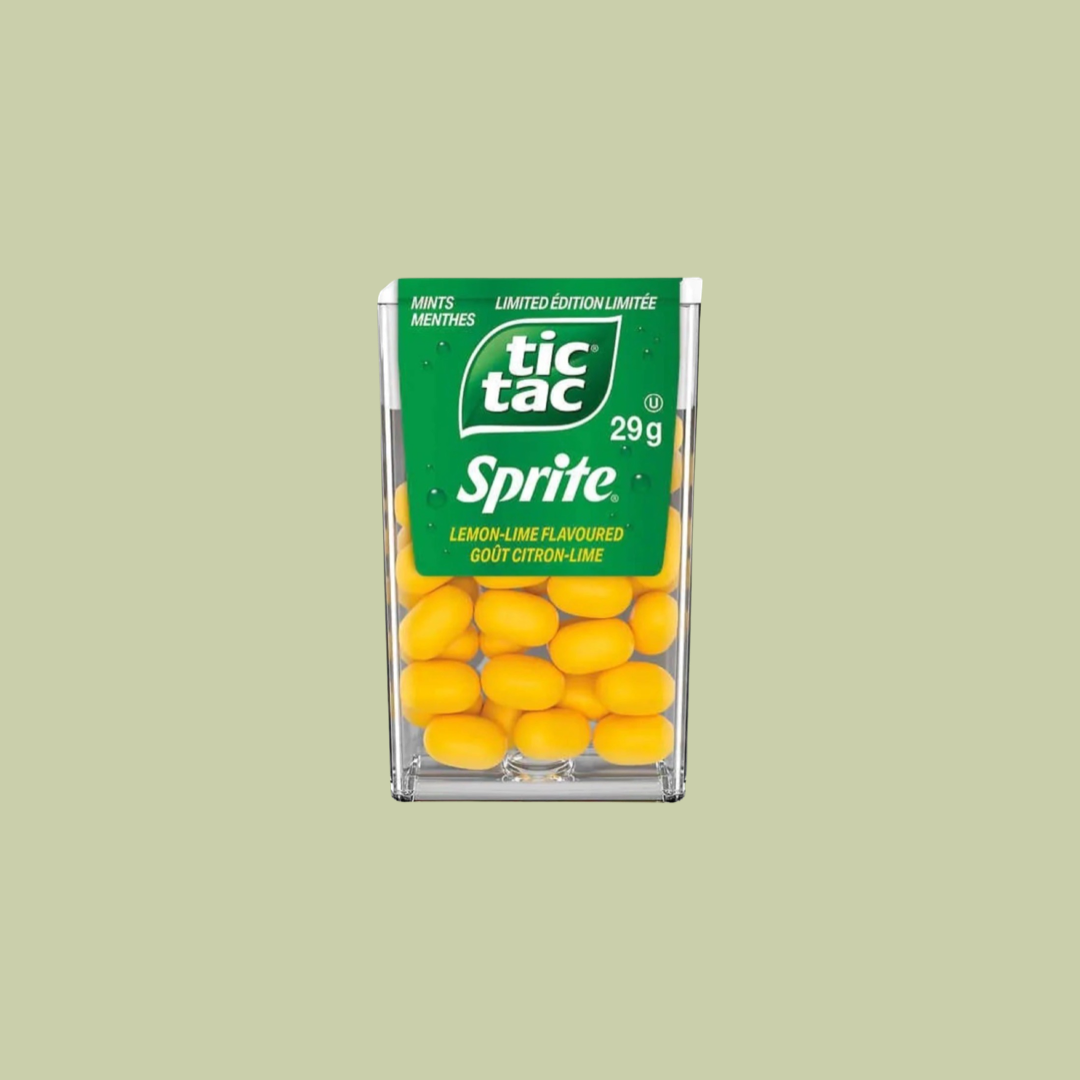 Sprite (Limited Edition)
Introducing the refreshing and playful Tic Tac Sprite Limited Edition, the latest addition to our iconic lineup of minty delights. If you're looking to add a little sparkle to your day, this special edition Tic Tac is here to quench your thirst for a unique and zesty twist on the classic Tic Tac experience.
Imagine the crisp, effervescent taste of Sprite captured in a tiny, convenient package. Tic Tac Sprite Limited Edition combines the familiar coolness of mint with the invigorating citrus burst of Sprite, creating a delightful fusion that's perfect for those moments when you crave a burst of refreshment.
Each translucent mint is a miniature work of art, featuring the recognizable Sprite logo embossed on the surface. It's not just a treat for your taste buds but a visual delight as well. The compact, pocket-friendly container ensures you can enjoy these tiny mints anytime, anywhere, whether it's in the office, during a movie, or on a road trip.
As with all Tic Tac products, quality and freshness are paramount. Tic Tac Sprite Limited Edition maintains the high standards you've come to expect. These mints are made with care, using the finest ingredients, and sealed for freshness to guarantee a satisfying, minty experience every time you pop one into your mouth.
Whether you're a die-hard Tic Tac fan, a Sprite enthusiast, or simply looking to elevate your snacking game, Tic Tac Sprite Limited Edition is a must-try. But hurry, this exclusive flavor won't be around forever. Make your moments more vibrant, more refreshing, and more fun with Tic Tac Sprite Limited Edition. Grab yours today and savor the playful combination of mint and citrus that's sure to put a smile on your face.
---
In stock, ready to ship

Inventory on the way
We operate as a licensed eating and drinking establishment. You must be 19+ years of age, reside in Ontario and include a food item with the purchase of alcohol. Valid government photo ID must be presented at the time of accepting delivery.
Next-Day delivery with real time tracking across the Greater Toronto Area. Daily order cut-off is 3pm. No deliveries on weekends. Flat rate is $15.00.
3-5 business day delivery to most addresses in Ontario serviced by Canada Post. Orders placed on Friday will be processed the following week.