x
FOOD REQUIREMENT!
A food item must be included in your order when purhasing alcohol from our shop. Visit our grocery section below.
PURCHASE FOOD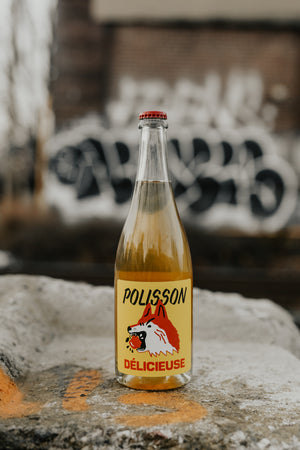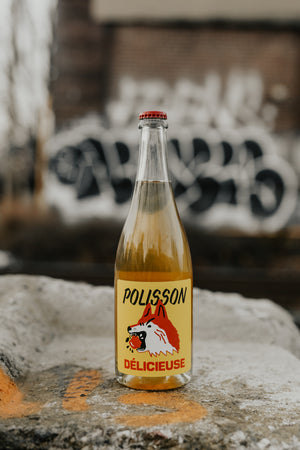 On Sale
Le Deliceuse
Polisson creates sparkling ciders made with the freshest apples and no artificial ingredients. Their identity and packaging is inspired by their name, which translates from French to mean a 'mischievous, disobedient child'. Erratic brushstrokes form the basis of the visual language, alongside a quirky illustration of a local wild animal, the coyote.
They are in their second vintage, and their work still reflects a philosophy of making ciders vinified as naturally as possible. Cidres Polisson is a team of two people: Hugo Grenon, first trained as a winemaker with Domaine le Capréoles, takes care of the vilification, the cellar and the work in the vines. And Jean Sébastien Matte, his childhood friend who supports him on a daily basis in the logistics and management of the estate. They vinify all their ciders and soon wines in Oka, Quebec. All ciders are made using the ancestral method, without yeasting or other additions to oenological products. No sulfur was added or used during the manufacturing stages or at the bottling. All the steps after bottling (disgorging, leveling, capping and bottling) are done by hand. 
Description: Made with Délicieuse Apples this is the sweetest product from the Polisson range. Its apple and maple taste makes you want to drink it for dessert on a beautiful fall day, but it would also be excellent to accompany a beautiful cheese platter from home. Let's say it's not called La Délicieuse for nothing! Aromas of apples, fresh caramel and maple.
Style


Apple



Region


Quebec



Country
Canada

Vintage
2021
Alc./Vol.
6%

Size
750mL
Single
$45 / btl
3 Pack


$43 / btl



6 Pack


$40 / btl