x
FOOD REQUIREMENT!
A food item must be included in your order when purhasing alcohol from our shop. Visit our grocery section below.
PURCHASE FOOD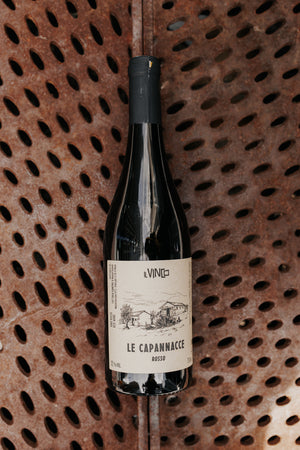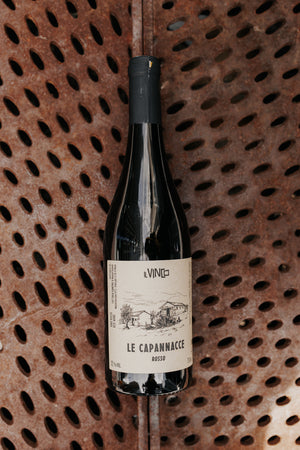 On Sale
Capannacce Rosso '19
ABOUT IL VINCO
Located in Montefiascone in the Viterbo province of Lazio, on the southern slopes of the volcanic Lago di Bolsena, Il Vinco is a joint effort between three friends. Daniele Manoni, Marco Fucini, and Nicola Brenciaglia started the project in 2014 to recuperate and restore the native Canaiolo Nero vines indigenous to the area. Canaiolo is most famously known as a blending grape in Chianti. Here in Lazio, planted on volcanic soils and bottled as a mono-varietal, the variety is allowed to shine. With the assistance of another native of Lazio, Andrea Occhipinti, who allowed them use of his cellar, the friends began by purchasing 2.5 hectare of old vine Canaiolo, with another 2.5 just planted. The vines are planted in the area between Capodimonte and Marta on the southern shore of the Lago di Bolsena; Le Coste, another noteworthy producer, is located in Gradoli, on the northern side of the lake.
The old vines are planted on hilly slopes between 250 and 450 meters above sea level. The climate here is ideal, with gentle breezes from the lake and good exposure. This, combined with their commitment to an organic approach in the vineyards, make for beautiful and interesting wines. Il Vinco is named for the pliable willow branch used to tie the vines to stakes in the vineyard.

CAPANNACCE ROSSO '21
100% Grechetto and is more straightforward than Il Canajo, in line with the characteristics of Sangiovese, with more pronounced tannin and acidity but still featuring the soft fruit and earthiness typical of the estate. The 2019 was fermented in both cement and steel, with maceration of about 10 days and without filtration and without sulfites. The name Le Capannacce is the name of the parcel of land near their cellar.
Grapes
Grechetto
Region


Lazio



Country
Italy

Vintage
2019
Alc./Vol.
12%

Size
750ml

Single
$45

/btl

3 Pack
$43

/btl

6 Pack
$41/btl